PHPRad Version 2 Released
New Amazing Features
Extended Trial Period
Minor Bugs Fix
---
How it works
Getting Started
Connect to database | Create Database
(MySQL)
Configure application design and edit pages
Add components and widgets to pages
Preview and publish your application
Advance Features With Numerous Flexible Options
Easy to Use
Develop and Publish your Applicantion Instantly
Intuitive and easy to use
---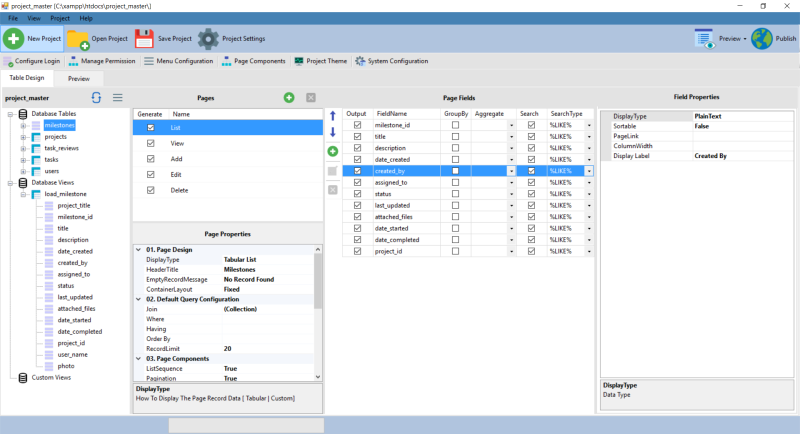 Flexible Numerous Options And Customization
Customize your application's UI and Business Logic without writing a single line of code. This helps you to add more features to you application.
Customizable User Interface
You can Easily Rearrange components with just drag and drop. With over 50 bootstrap themes and color scheme give you application an appealing different looks
Add Widgets And Components to Pages
Powerful and intuitive design tools enable​ to you​ easy and extensive customization of your application's
Quick Preview and Publish
Preview changes and perform live actions in real time
---
Preview Changes in Secs
With just one click the application source code is generated and displayed with all modifications carried out, allowing a quick preview and test of the final application.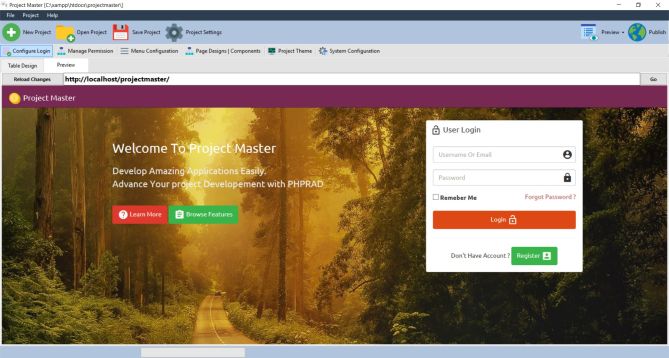 Uses Familiar Technologies
Simple to the core. No Over bloated frameworks and libraries.
---
storage

Uses MysqliDb: Simple MySQLi wrapper and object mapper with prepared statements

group_work

PHP : From version 5.3.0 to the Latest Latest Version of PHP

apps

Free themes from Bootswatches with different color schemes for each theme

widgets

Enjoy The Vast Icons From

Material Design Icons

With Just A Click. Used in menu building, Button, links Headers, etc...
MVC Pattern
We Use MVC Design Approach
---
Separation of User Actions, Busines Login, And Views
One of the benefits of using a MVC methodology is that it helps enforce a clean separation of concerns between the models, views and controllers within an application. Maintaining a clean separation of concerns makes the developing, maintaining and testing of large complex applications much easier, since the contract between different application components are more clearly defined and articulated.
This Makes it Easier for the developer to edit the source code manually if the needs arise
PHPRad Overview
PHPRad at a Glance
---
Up to 30% off . Promo Last for 30 days. Buy Now