PHPRad Features at a Glance
A Rapid Application Development Tool that helps you create simple and professional applications.
Connect to an Existing database (MySQL)
Configure application design and edit pages
Add components and widgets to pages
Preview and publish your amazing application.
Getting Started
---
System Requirements
| | |
| --- | --- |
| Web Server | Apache Server Apacher Server management tool such as xampp or wamp |
| Database | MySQLi | MariaDB |
| Language | PHP From PHP 5.0 to The Latest version |
| Operating System | WIndows Operating System Windows 7,Windows 8,Windows 10 |
---
Installations
Download PHPRad Windows Installer.
cloud_download Download Trial Version
Start using PHPRad today by downloading fully functional trial version
monetization_on Purchase Full Version
Purchase Full version of PHPRad, we will send you Product Activation Key to your email.
Run Installations on your machine and Start Your Project Development
Creating New project
Start New Project By Click on the New Project Button.
---
On new project window, Provide necessary information
The Application Home Page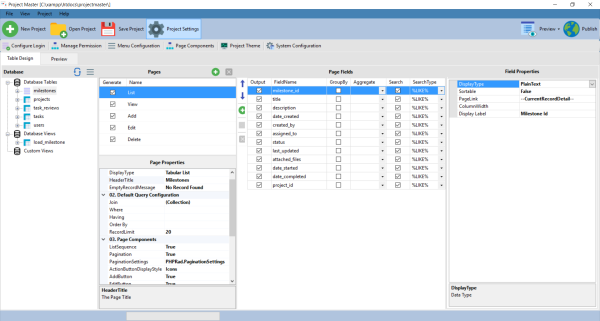 tag_facesCongratulation! Your project is now created
You can click on preview tab to see your application generated for you.
save To Save Project
You can save project so that you can continue editing next time
folder_open To Open Existing Project
You can Open existing project and continue from where you stopped
Project Database
---
sync To Sync Database
You can save project so that you can continue editing next time
view_list Database View
Database view helps you to create pages with sql queries. The sql query is store on the database
view_list Custom View
Custom view helps you to create list page with your own custom sql queries. The sql query is not store on the database
Custom view can only be used to create list pages
save To Manage Data View
You can Add,delete,update both custom views and database view by clicking on the manage button on the application database panel
You can equally right click on the database view or custom view to update or delete the view